If you have unused or expired prescriptions, where should you get rid of them? Look to your phone or other mobile device.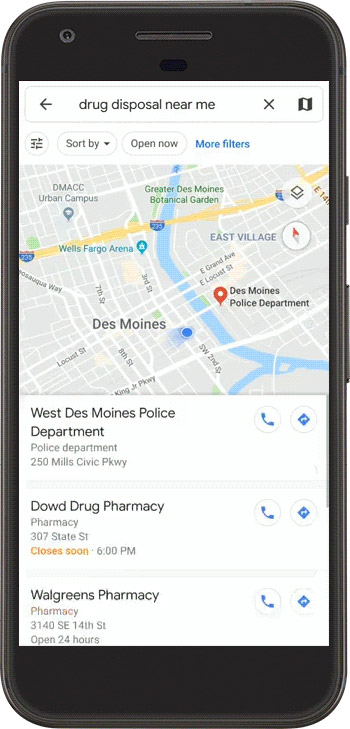 A new pilot Google Maps feature makes it quick and easy to find approved drug disposal sites near you. Those include government facilities, hospitals, and pharmacies. 
The feature was developed last year as part of a U.S. Department of Health and Human Services Opioid Code-a-Thon. The competition asked developers to find ways that technology could help fight the opioid crisis. 
Prescription drug misuse and lack of proper disposal heavily contributes to the opioid crisis. In fact, 70% of people who have misused prescription painkillers reported getting them from friends or relatives.
How to locate a drop-off site
If you already use Google Maps, type "drug disposal near me" in the search bar. The tool will show you nearby government, health care facility, and pharmacy drop-off locations. 
Don't have or use Google Maps?
Additional drug disposal options
The U.S. Drug Enforcement Administration holds national prescription drug take-back events twice per year. Your local police department or other law enforcement agency may also have information on take-back events in your community.
Fighting the crisis at NIH
NIH is leading an aggressive effort with other government agencies to develop ways to better treat pain and help people with opioid addiction. The HEAL (Helping to End Addiction Long-term) Initiative uses research to address the issue and has made patients the focus of their efforts.
Getting help
If you or someone you know is abusing opioids or other prescription medication, call the Substance Abuse and Mental Health Services Administration's National Helpline: 1-800-662-HELP (4357).
The National Institute on Drug Abuse also offers information on treatment options.
← Blog